My Blog
Posts for: January, 2018
By Jordan Orthodontics
January 16, 2018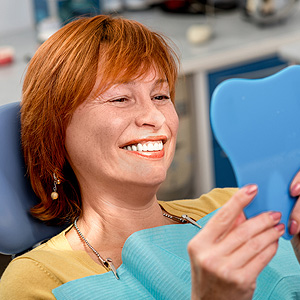 There's a lot to like about dental implants for replacing missing teeth. Not only are they life-like, but because they replace the root they also function much like a natural tooth. They also have another unique benefit: a track record for long-lasting durability. It's estimated more than 95% of implants survive at least ten years, with a potential longevity of more than 40 years.
But even with this impressive record, we should still look at the few that didn't and determine the reasons why they failed. We'll soon find that a great number of those reasons will have to do with both oral and general health.
For example, implants rely on adequate bone structure for support. Over time bone cells grow and adhere to the implant's titanium surface to create the durable hold responsible for their longevity. But if conditions like periodontal (gum) disease have damaged the bone, there might not be enough to support an implant.
We may be able to address this inadequacy at the outset with a bone graft to encourage growth, gaining enough perhaps to eventually support an implant. But if bone loss is too extensive, it may be necessary to opt for a different type of restoration.
Slower healing conditions caused by diseases like diabetes, osteoporosis or compromised immune systems can also impact implant success. If healing is impeded after placement surgery the implant may not integrate well with the bone. An infection that existed before surgery or resulted afterward could also have much the same effect.
Oral diseases, especially gum disease, can contribute to later implant failures. Although the implant's materials won't be affected by the infection, the surrounding gum tissues and bone can. An infection can quickly develop into a condition known as peri-implantitis that can weaken these supporting structures and cause the implant to loosen and give way. That's why prompt treatment of gum disease is vital for an affected implant.
The bottom line: maintaining good oral and general health, or improving it, can help keep your implant out of the failure column. Perform daily brushing and flossing (even after you receive your implant) and see your dentist regularly to help stop dental disease. Don't delay treatment for gum disease or other dental conditions. And seek medical care to bring any systemic diseases like diabetes under control.
If you would like more information on dental implants, please contact us or schedule an appointment for a consultation. You can also learn more about this topic by reading the Dear Doctor magazine article "Dental Implants: A Tooth-Replacement Method that Rarely Fails."
By Jordan Orthodontics
January 01, 2018
Is having good oral hygiene important to kissing? Who's better to answer that question than Vivica A. Fox? Among her other achievements, the versatile actress won the "Best Kiss" honor at the MTV Movie Awards, for a memorable scene with Will Smith in the 1996 blockbuster Independence Day. When Dear Doctor magazine asked her, Ms. Fox said that proper oral hygiene was indeed essential. Actually, she said:
"Ooooh, yes, yes, yes, Honey, 'cause Baby, if you kiss somebody with a dragon mouth, my God, it's the worst experience ever as an actor to try to act like you enjoy it!"
And even if you're not on stage, it's no fun to kiss someone whose oral hygiene isn't what it should be. So what's the best way to step up your game? Here's how Vivica does it:
"I visit my dentist every three months and get my teeth cleaned, I floss, I brush, I just spent two hundred bucks on an electronic toothbrush — I'm into dental hygiene for sure."
Well, we might add that you don't need to spend tons of money on a toothbrush — after all, it's not the brush that keeps your mouth healthy, but the hand that holds it. And not everyone needs to come in as often every three months. But her tips are generally right on.
For proper at-home oral care, nothing beats brushing twice a day for two minutes each time, and flossing once a day. Brushing removes the sticky, bacteria-laden plaque that clings to your teeth and causes tooth decay and gum disease — not to mention malodorous breath. Don't forget to brush your tongue as well — it can also harbor those bad-breath bacteria.
While brushing is effective, it can't reach the tiny spaces in between teeth and under gums where plaque bacteria can hide. But floss can: That's what makes it so important to getting your mouth really clean.
Finally, regular professional checkups and cleanings are an essential part of good oral hygiene. Why? Because even the most dutiful brushing and flossing can't remove the hardened coating called tartar that eventually forms on tooth surfaces. Only a trained health care provider with the right dental tools can! And when you come in for a routine office visit, you'll also get a thorough checkup that can detect tooth decay, gum disease, and other threats to your oral health.
Bad breath isn't just a turn-off for kissing — It can indicate a possible problem in your mouth. So listen to what award-winning kisser Vivica Fox says: Paying attention to your oral hygiene can really pay off! For more information, contact us or schedule an appointment for a consultation. You can read the entire interview with Vivica A. Fox in Dear Doctor's latest issue.